【This Week's Results & ChatGPT】Try Managing a Free EA Portfolio! (3-7 April 2023)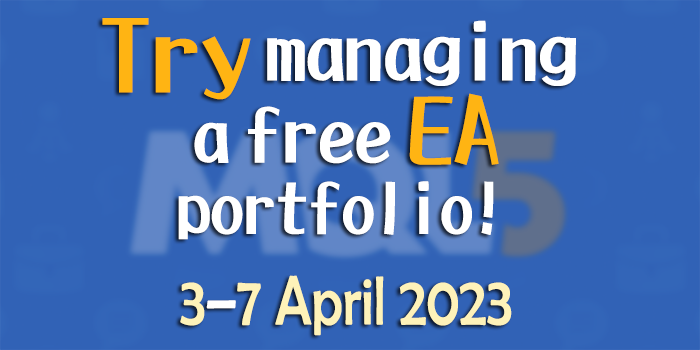 Mini-review
–

We asked ChatGPT!                                                                                                                                                                                                                                           

ChatGPT is a generative AI that creates sentences as people write, but in March 2023, an AI engine called GPT-4 was released, and its performance has become even higher. Next, research and development of GPT-5 is also progressing.

The scariest thing is that people will get stuck in the framework of AI. I don't think it's suitable for ideology or anything related to each person's principles.

However, Forex is suitable because it is a fairly universal field.

This time, at first, I asked the question, "What kind of AI is effective in Forex automatic trading software (EA)?", but ChatGPT's answer was not very specific, so I changed it to a more specific question.
Q:

What technology is used as effective AI in EA that trades for short hours such as scalping?
A: ChatGPT: https://chat.openai.com/auth/login response
AI technologies that are effective in scalping and short-time trading EAs (Expert Advisors) focus on quick analysis of market data, generation of trading signals, optimization of entry and exit timing, etc. The following AI technologies are often used:
Machine Learning (ML): Learns short-term price movements and patterns in market data so that they can be applied to scalping trading strategies. In particular, reinforcement learning is suitable for learning trading strategies that maximize short-term rewards.
Deep learning (DL): Convolutional neural networks (CNNs) and recurrent neural networks (RNNs) are good for detecting short-term patterns in time series data. These models help optimize entry and exit timing in scalping trades.
Genetic Algorithm (GA): Genetic algorithms help you explore the best scalping strategy. You can find parameters and trading rules that maximize short-term profits.
Ensemble learning techniques: Ensemble learning techniques such as decision trees, random forests, and gradient boosting can combine multiple models to improve prediction accuracy. This makes entry and exit timing in scalping trades more accurate.
However, in scalping trading, natural language processing (NLP) techniques are generally less important due to the relatively small impact of news and market sentiment. The best AI techniques and approaches depend on trading styles and objectives, so users should choose the right software for them.
ChatGPT's response is probably about 100 points for an exam answer, but in the end it is just a compilation of knowledge gathered on the Internet. There is no raw humanity emanating from people who are exposed to primary sources. However, in terms of gathering information, it is very useful.
After all, I would like to use it as a tool to make the most of collective intelligence.
MQL5 Free EA – NOZAX Portfolio No.1
NOZAX Portfolio No.1
Account: NZX Zero (ECN) (NOZAX)

Initial balance: 100,000 yen

Working EA

:
TraderMind EA MT5: Currency pair: USDCAD#, Timeframe: 1-hour, Lot quantity:

0.03 lot
White Bear DT for NOZAX: Currency pair: GBPJPY#, Timeframe: 5-minute, Lot quantity:

0.01 lot

White Bear DT for NOZAX: Currency pair: USDJPY#, Timeframe: 5-minute, Lot quantity:

0.02 lot
Results from 3-7 April (NOZAX Portfolio No. 1)
TraderMind EA MT5: 0 wins and 2 losses, total profit and loss was -728 yen (-23.8pips).
White Bear DT GBPJPY: 1 win and 6 losses, total profit and loss was -5479 yen (-542.5 pips).
White Bear DT USDJPY: 0 wins and 2 losses, total profit and loss was –

-458 yen

(-21.9pips).
Past Results (NOZAX Portfolio No.1)
The individual results of each EA to date are as follows.
3 January – 7 April 2023


(Trades with a profit of even 1 yen are counted as "winning", while the reverse is counted as "negative")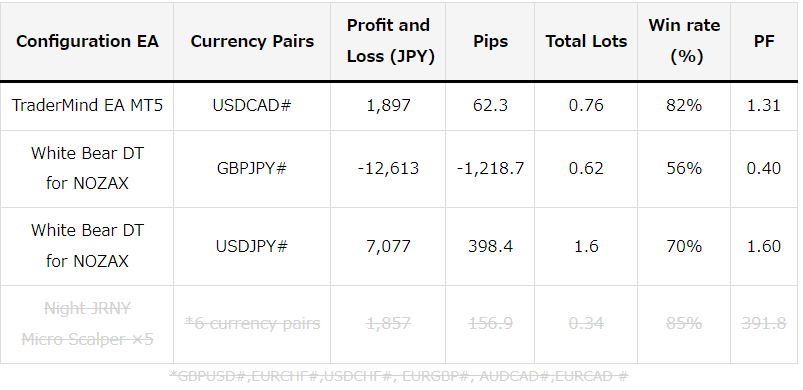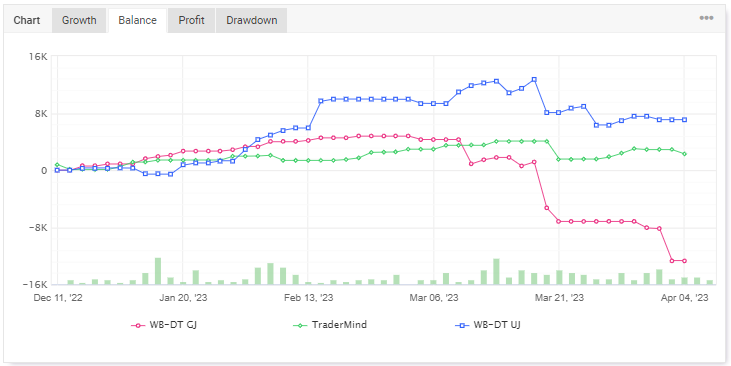 Every EA sank to a dismal performance this week.

We can only take the long view.

Current status and schedule of the portfolio
It would be a mistake to feel the sluggishness of White Bear DT GBPJPY but not take action. It is undeniable that we feel that we are behind the curve, but from next week, we will temporarily remove White Bear DT GBPJPY from the portfolio and add another EA to try to restart it.