MQL5 Free EA – Verification by backtesting 9 "Trend Tracer EA"
In the "Verification by backtesting" series, we verify the performance of free EAs registered in the MQL5 community from the backtesting results. We hope it will help you choose EA.
* Membership registration (free) is required to download EAs and indicators from the MQL5 community, so let's create an account by referring to this article!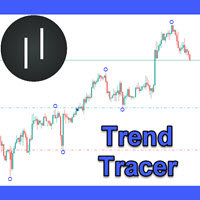 About "Trend Tracer EA"
Quote from the official MQL5 page
The Trend Trader EA can identify and trade market trends. Due to the nature of the strategy it will perform better in trendy market conditions and might struggle with sideways markets. It includes various trade management options to make adjustments whenever the market requires it.
← EA introduction video
(MT5 Price Action Brakeout Expert Advisor)
Trading "Trend Tracer EA"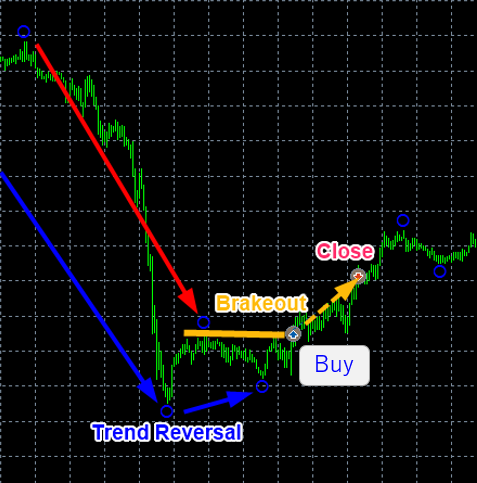 This EA is a breakout EA, as introduced as Price Actin Brakeout Expert Advisor in the video. It automatically detects high-low prices and monitors each peak (blue circle in the figure) to find trends. For example, if the peak of the low (or high) is in a downtrend while the peak of the low is updating the low, and if the peak of the low (or high) does not update the low, the trend is considered to have turned. As shown in the figure above, after changing the trend without updating the peak of the low, enter when the latest high peak breakouts.

Screening of supported currency pairs

This EA is an EA that is on the rise due to its clear logic. However, it is not clear which currency pair it can be used with. Therefore, as usual, we screened using MT5's "function to backtest and compare all stocks displayed in the Market Watch window at once".

The test conditions are NOZAX Zero Account (ECN), initial balance 10,000 USD, period December 1, 2019 ~ November 30, 2022, EA parameters are default settings.
Compared Stocks: 20 Currency Pairs –

AUDJPY#, AUDNZD#, AUDUSD#, CADJPY#, CADCHF#, CHFJPY#, EURAUD#, EURCHF#, EURGBP#, EURJPY#, EURUSD#, GBPAUD#, GBPCAD#, GBPCHF#, GBPJPY#, GBPUSD#, NZDUSD#, USDCAD#, USDCHF #, USDJPY#
H1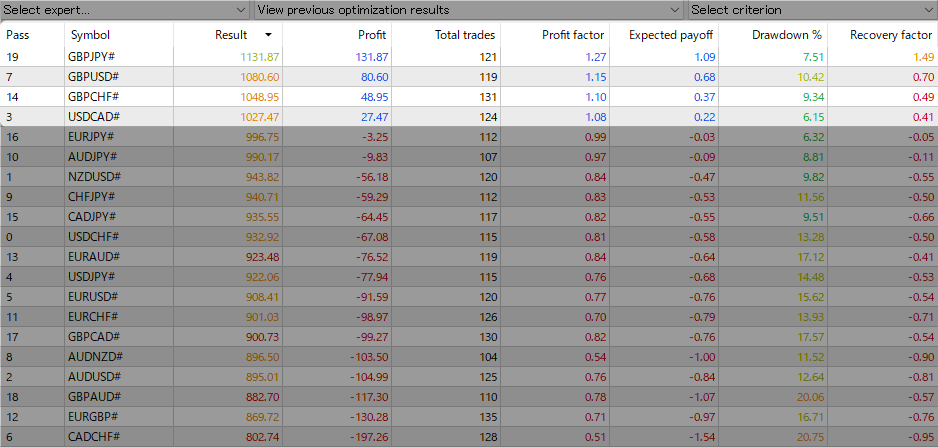 We also conducted backtests outside of the one-hour (H1) timeframe, but none of them yielded satisfactory profits with the default settings. In the comments on the official page, it seems that some users use it for scalping, so this EA may need to change the parameter settings significantly depending on how it is used.
Backtesting
the "Trend Tracer EA

"

In this article, we will show the backtest results with the initial settings.
GBPJPY H1
Account: NZX Zero (ECN) (NOZAX)
Currency pair: GBPJPY #
Timeframe: H1
Initial Balance: $10,000
Parameters: Initial Setup
Period: December 1, 2019 ~ November 30, 2022