MQL5 Free EA – Verification by backtesting 13 "Short Grid MT5"
In the "Verification by backtesting" series, we verify the performance of free EAs registered in the MQL5 community from the backtesting results. We hope it will help you choose EA.
* Membership registration (free) is required to download EAs and indicators from the MQL5 community, so let's create an account by referring to this article!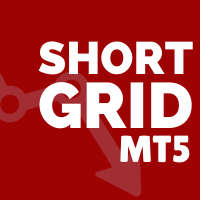 About "Short Grid MT5"
Quote from the official MQL5 page (translation)
"Short Grid MT5" is an Expert Advisor that uses ATR, Heiken-Ashi, Alligator and RSI. The lot size is calculated automatically.
Optimized settings (SET file) are published in the comments section of the official page!
(However, please perform a backtest in your own usage environment and decide whether to use it after being satisfied.) )
Parameter:
– Initial Volume… 0.01 Lot … Non-martingale
                (e.g. 3 = 0.03 lots for every $10,000)
– Grid Size
– Multiplier
– Take Profit
HEIKEN SETTINGS
– Heiken Period
– Heiken Value
GATOR SETTINGS
– Gator Period
– Gator Value
– Jaws Period
– Jaws Shift
– Teeth Period
– Teeth Shift
– Lips Period
– Lips Shift
RSI SETTINGS
– RSI Period (ATR)
– RSI Value (ATR)
– Period
– Value
Trading of "Short Grid MT5"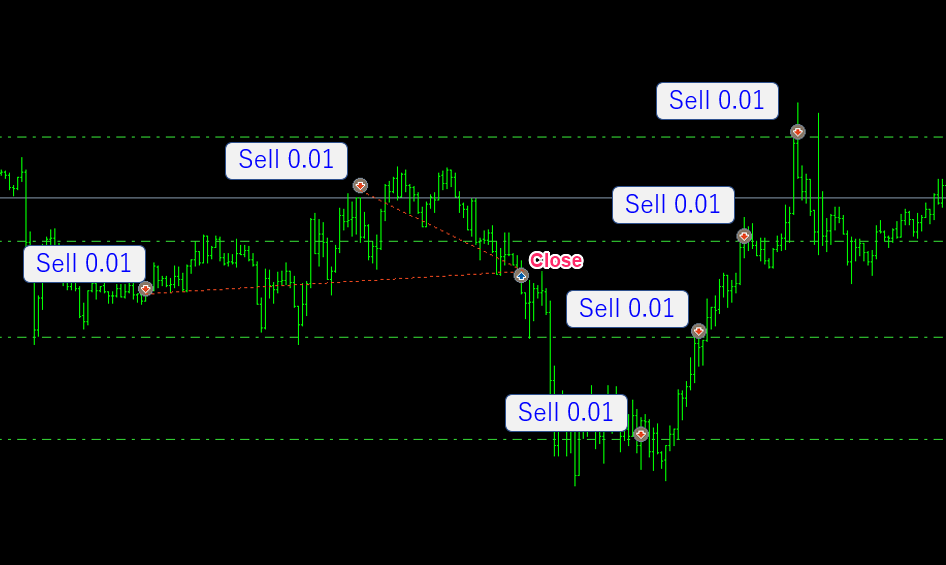 As the name suggests, this EA enters a Grid (regular interval) only Short (sell). If you enter with a certain lot but go backwards, increase the position by nanpin and close it all together when you return. Unlike the martingale type, there may be few situations where you have a large unrealized loss, but it is a great enemy to be careless.

Backtest results by default setting and after optimization (applying SET file)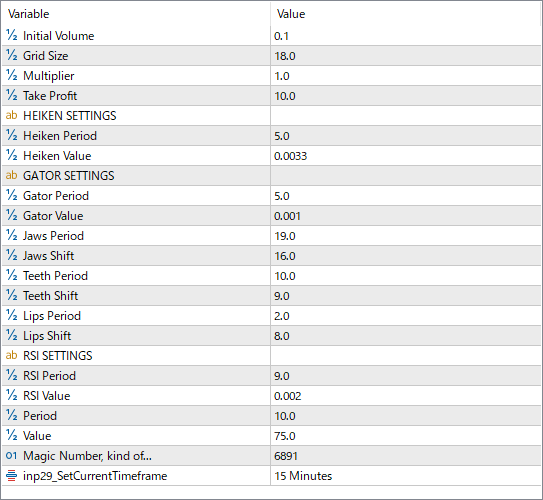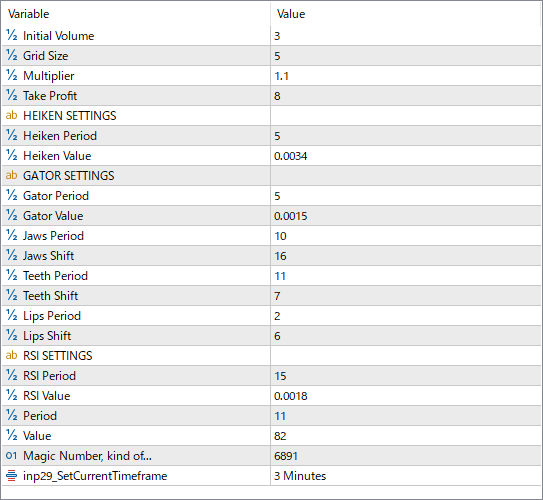 Backtesting EURUSD with default setting
Account: NZX Zero (ECN) (NOZAX)
Currency Pair: EURUSD#
Timeframe: set to M15 in EA parameters
Initial Balance: $10,000
Parameters:

Default Setting

Period: 1 January 2018 – 31 December 2022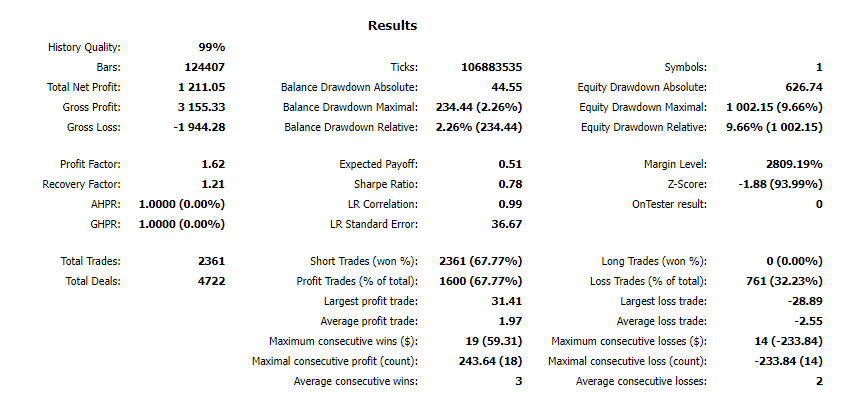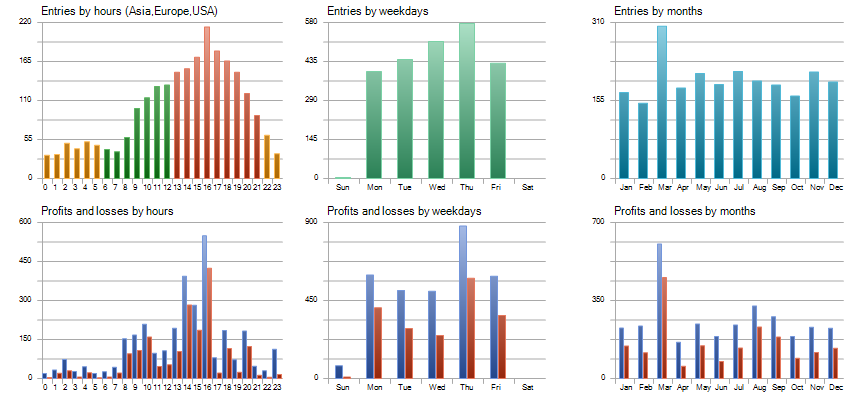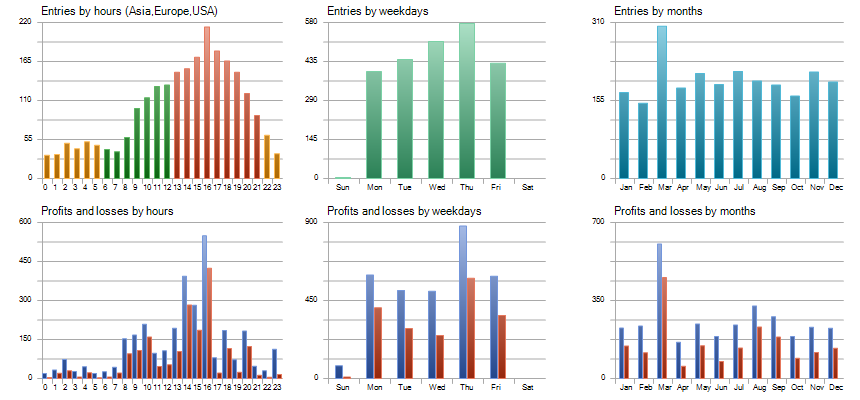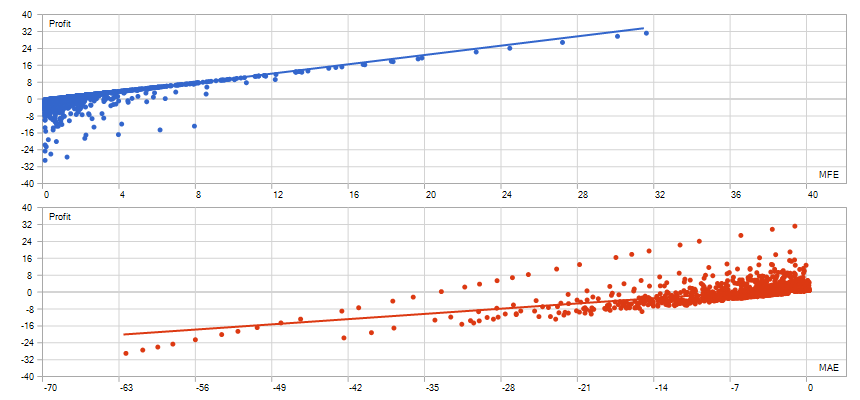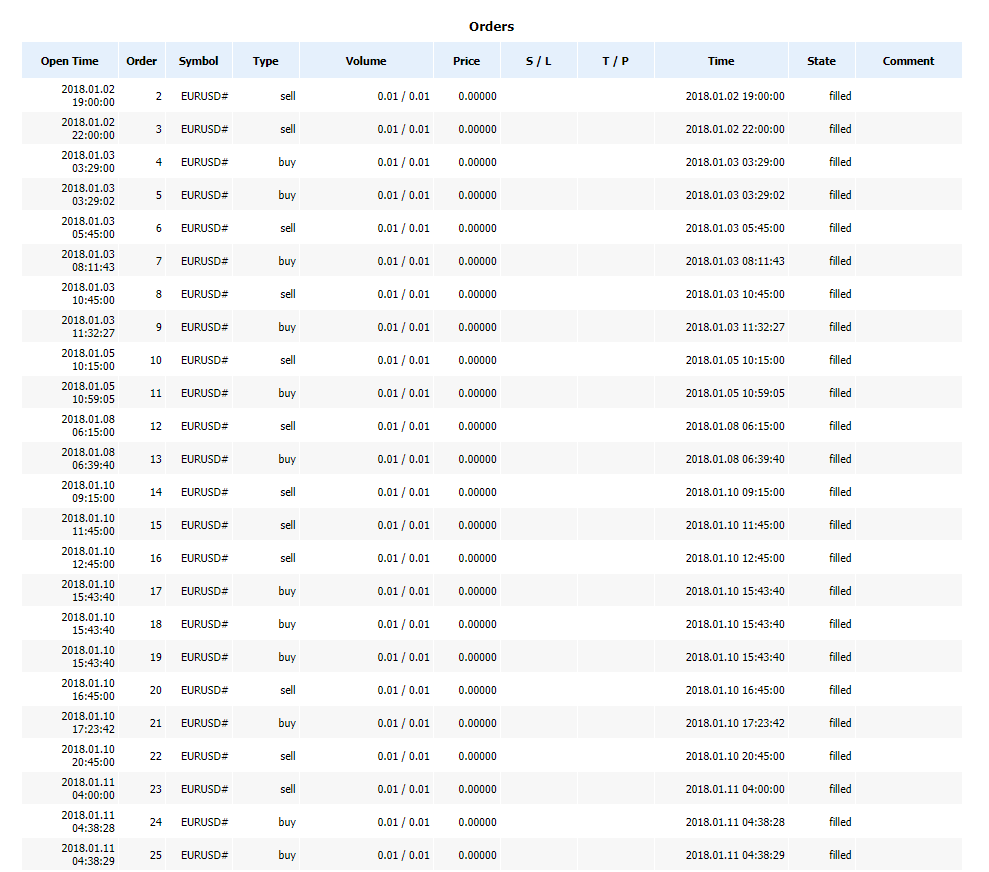 Backtest results after optimization (SET file application)
On the NOZAX zero account, the backtest with the optimization file applied could not be completed due to stop-outs in several years. I think it's a risky setting if you don't have enough funds. The profit margin may not be high, but it seems that the initial setting can be operated more stably.
Long-term backtest results with default setting

(EURUSD)
Account: NZX Zero (ECN) (NOZAX)
Currency Pair: EURUSD #
Timeframe: set to M15 in EA parameters
Initial Balance: $10,000
Parameters: Default Setting
Period:

1 January 2008 – 31 December 2022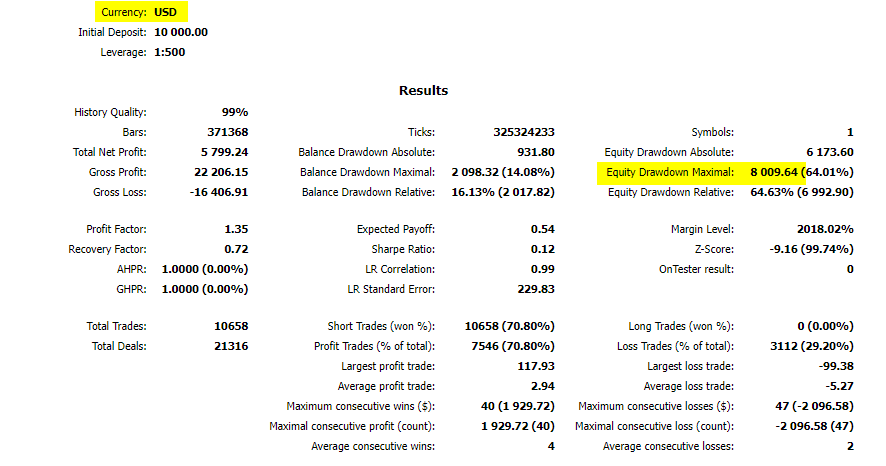 Since this EA is not a martingale method, the unrealized loss is relatively small, but you should still be prepared to encounter a large drawdown of more than $ 5,000 once every few years.
In the Strategy Tester report for MT5, an item called

Equity Drawdown Maximal

has been added, which clarifies the unrealized loss amount during the trading period. The unit of Equity Drawdown Maximal is the account currency at the time of backtesting.
The profit and loss curve in the strategy tester report, in the case of martingale type and grid type EAs, will eventually eliminate unrealized losses, leaving only a straight line without unrealized losses. It is dangerous to start operating these types of EA suddenly. We recommend that you correctly understand the size and frequency of unrealized losses from the strategy tester report and confirm that sufficient funds can be allocated to withstand the drawdown before starting operation. Of course, there is a possibility that you will suffer more drawdowns than the test, so please be aware of that.