【This Week's Results & ChatGPT】 Try to Managing a Free EA Portfolio 2 (17-21 April 2023)
Mini-review – We asked ChatGPT!                                                                                                                                                                                                                                           
In this issue, we would like to find out how much ChatGPT has learnt about one of the most popular trading techniques, the moving average cross. In particular, we asked about the problem of false signals with this trading method, and what workarounds are generally taken to avoid them.
Q: What are some strategies for avoiding damashi when trading with moving average crossings in forex?
A: ChatGPT: https://chat.openai.com/auth/login response
When trading with moving average crosses in forex (foreign exchange trading), several measures can be taken to avoid damashi (false signals).
Use longer-term moving averages: longer-term moving averages move more slowly than shorter-term ones, reducing false signals caused by temporary price fluctuations.
Use multiple moving averages: a combination of short, medium and long moving averages can help to find more reliable trends. If several moving averages from different time periods cross at the same time, this may indicate that a stronger signal is occurring.
Combined with support and resistance lines: using support and resistance lines in conjunction with moving average crosses can help predict how far prices will move and help avoid false signals.
Use Bollinger Bands: Bollinger Bands show the range of price fluctuations, making it easier to identify false signals based on past price movements.
Combine with other technical indicators: using other technical indicators such as RSI (Relative Strength Index), MACD (Moving Average Convergence Diffusion) and Stochastics can give you more reliable trade signals and help you avoid false signals.
Change timeframes: you can reduce the risk of false signals by checking the moving average crosses on different timeframe charts and only considering a trade if the same signal is present on more than one timeframe.
Consider market conditions: fundamentals such as news and economic indicators can be considered and combined with technical analysis to identify more appropriate trade signals. If the market is volatile or there are important economic indicators to be released, it is important to deal with moving average cross signals carefully.
Set stop-loss and take-profit rules: always ensure good risk management and set stop-loss and take-profit rules to minimise losses due to false signals.
Conduct back-testing: conduct back-testing using historical data to see how reliable moving average crosses are. This will help you identify situations where false signals are likely to occur in the currency pair or time frame you are trying to trade.
Practise with a demo account: before investing real money, practise trading with moving average crosses in a demo account to learn how to detect and avoid false signals.
In combination, these measures can make trading with moving average crosses safer and more effective by avoiding false signals. However, it is difficult to completely eliminate false signals and risk management is important.
Some of the items suggested could be useful in considering filters.
After this, it is time for sensitivities that are unique to humans to come into play!
MQL5 Free EA – NOZAX Portfolio No.2
NOZAX Portfolio NO.2
Account: NZX Zero (ECN) (NOZAX)

Initial balance: 100,000 yen

Working EA

:
TraderMind EA MT5: Currency Pair: USDCAD#, Timeframe: 1 Hour, Lot quantity:

0.04 Lot
White Bear DT for NOZAX v1.13: Currency pair: USDJPY#, Timeframe: 5-minute, Lot quantity:

0.02 lot
Gold Multiply Funds EA: Currency Pair: XAUUSD#, Timeframe: 30-minute, Lot quantity:

0.01 lot
Catastrofix EA MT5: Currency Pair: EURGBP#, EURAUD#, EURNZD#, EURUSD#, GBPCAD#, AUDJPY#,

Timeframe: 1 Hour,

Lot quantity:

0.01 lot
Results from April 17 to April 21 (NOZAX Portfolio No.2)
TraderMind EA MT5: 3

wins and 0 loss, total profit and loss was

1780 yen

(46.0 pips).

White Bear DT USDJPY: 4 wins and 0 loss, total profit and loss was

820 yen

(43.8 pips).
Gold Multiply Funds EA

:

2

wins and 2 losses, total profit and loss was

787 yen

(620.0 pips).
Catastrofix EA MT5: 1 win and 7 losses, total profit and loss was -1147 yen (-108.1 pips).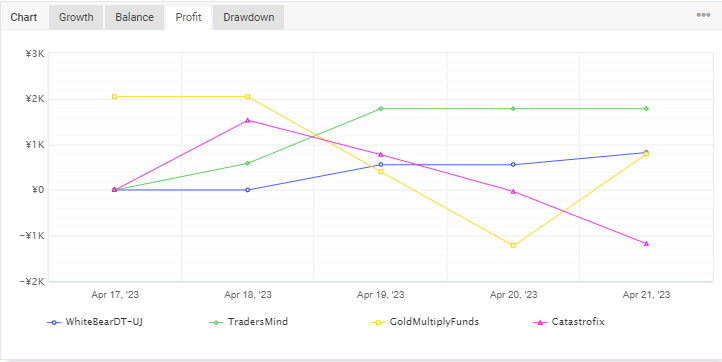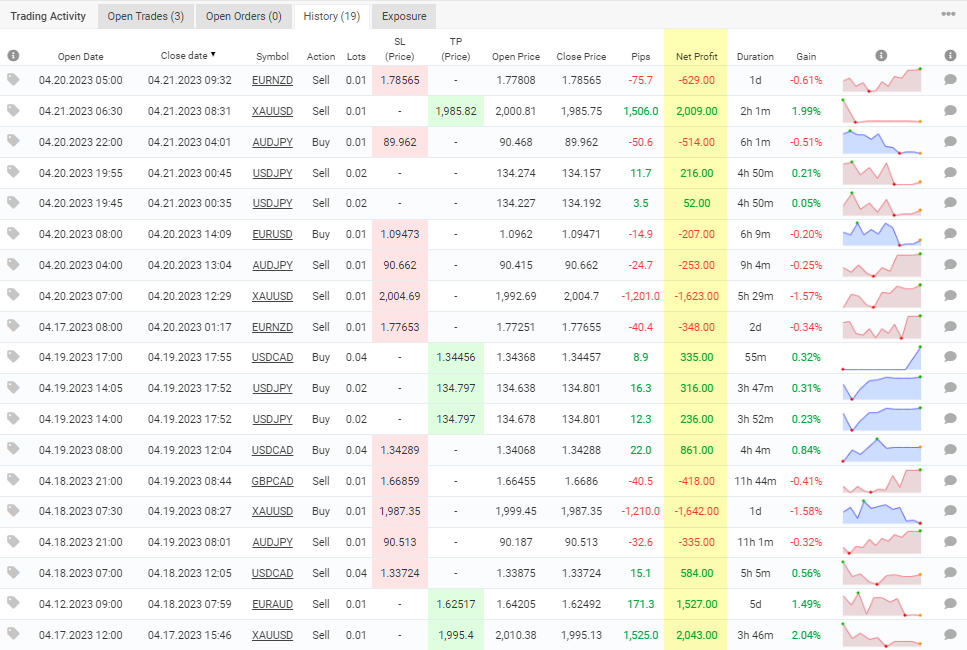 Past Results (NOZAX Portfolio No.2)
The individual results of each EA in the portfolio No. 2 are as follows.
10-21 April 2023


(Trades with a profit of even 1 yen are counted as "winning", while the reverse is counted as "negative")
Balance: 100,000 yen → 102,476 yen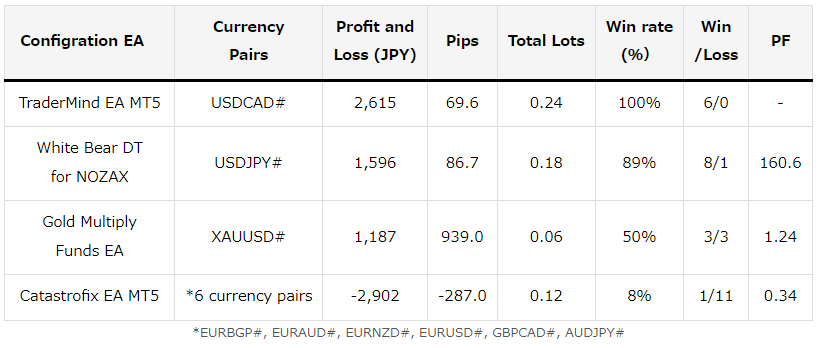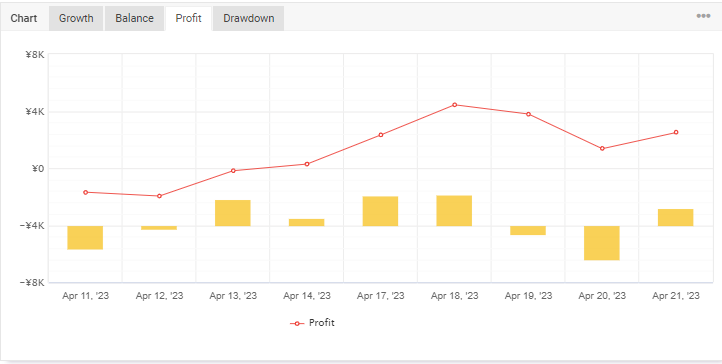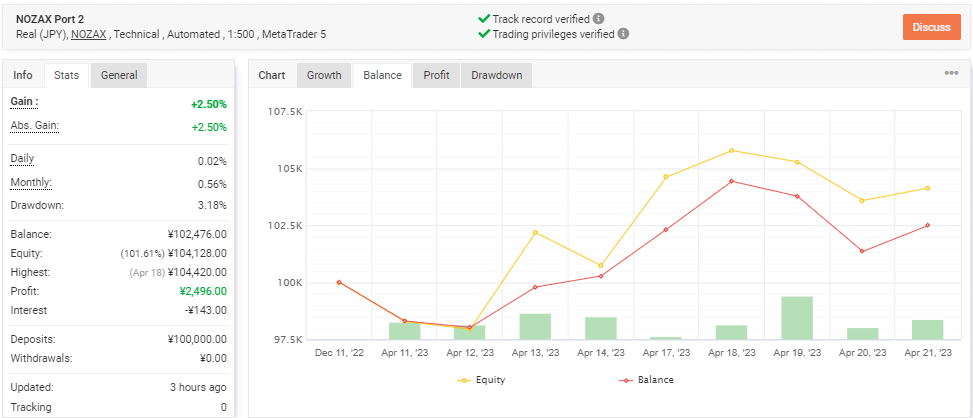 Current status and schedule of the portfolio
It's been two weeks since we started Portfolio 2 and as expected we are waiting for Catastorofix to win, Catastorofix has a large Takeprofit, so we have been holding positions for a long time, and this week we went through another week with unrealised profits.
If this position is closed with a win and the win rate rises to the level of the back test, I feel that I can watch this portfolio operation with peace of mind.
I'm looking forward to the next week and beyond.