MQL5 Free EA – Verification by backtesting 3 "PZ Super Trend EA MT5"
In the "Verification by backtesting" series, we verify the performance of free EAs registered in the MQL5 community from the backtesting results. We hope it will help you choose EA.
* Membership registration (free) is required to download EAs and indicators from the MQL5 community, so let's create an account by referring to this article!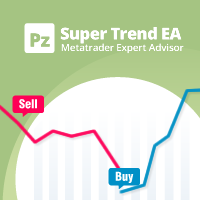 About "PZ Super Trend EA MT5

"
Quote from the official MQL5 page (translation)
This EA trades using the famous Super Trend indicator. The included indicators faithfully reproduce the original algorithm. The EA implements various customizable features that are convenient for traders.
Indicators whose settings can be changed freely

Breakeven, Stop Loss, Take Profit and Trailing Stop can be customized

ECN/non-ECN broker, works with 2-3-4-5 digit symbols

Possible to close the trade at the opposite signal

Implement multi-timeframe filters

In addition, it implements four monetization modes (Money Management Behavor)
Trade manual lotsize: Fixed lot size

Auto-calculation of lotsizes: automatically calculates the number of lots so that the loss is % of the risk on the account balance for each trade

Martingale: Doubles lot size after a losing trade

Inverse Martingale (Reverse Martingale): Doubles the lot size after a winning trade
Parameter setting
Trading Direction – Long, short, or both.

Super Trend Settings – This parameter group contains the settings for the Super Trend Indicator.

Filter Settings – This parameter group allows you to enable or disable multi-timeframe logic for transactions. For example, if you want to trade a trend change on the H1 chart confirmed by the D1 trend direction, load the EA on the H1 chart and set the D1 filter to true.

Position Management – This parameter group is used for trade management. You can set the trade direction, breakeven, trailing stop, stop loss and take profit. In addition, you can enable or disable closing trades with signals in the opposite direction.

Sessions Settings – Enables or disables trading during the Asia, Europe, or America time slots.

Money Management – in this parameter block, you can set the lot size manually or let the EA calculate it automatically. It also implements martingale. 《Recommended》It is recommended to set the lot size manually.

EA Settings – Allows you to set the magic number and custom comment required for trading.
What is the Super Trend Indicator?
SuperTrend Indicator is an indicator developed by billionaire French Olivier Seban and based on ATR (Average True Range). After all, the trend is clear at a glance! It is popular with Western traders.
Note that several paid and free versions of Super Trend Indicator (including derivatives) are also registered in MQL5 Market and Code Base.
By the same author as the EA, PZ Super Trend MT5 can be downloaded from MQL5 Market (free).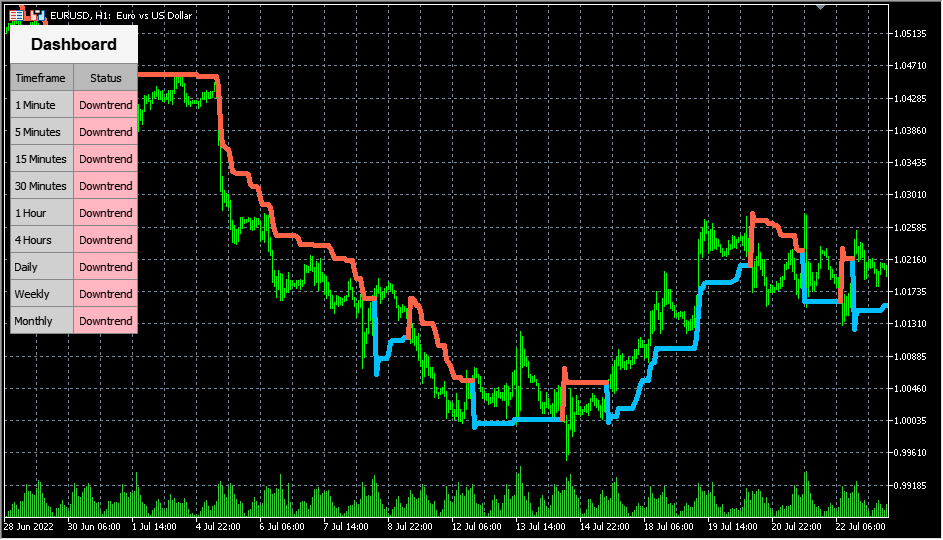 How to use "
PZ Super Trend EA MT5″
We conducted backtests on this EA in various currencies and time frames, but we could not expect profit with the default settings.
This EA is designed to trade according to the signals of the Super Trend Indicator, but it is very customizable, and various trades are possible by changing the settings.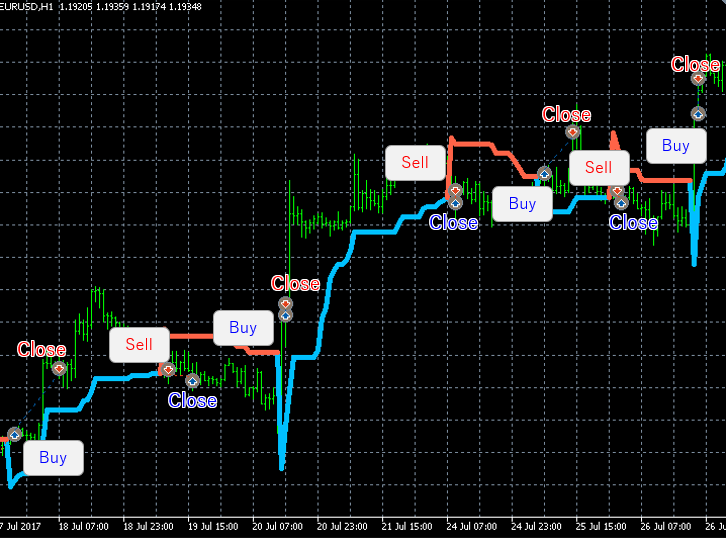 For instance
How to set breakeven, stop loss, take profit, trailing stop, etc.?

What to do with trading lots? Fixed lot? Martingale? Reverse martingale?

Whether to close the trade on the opposite signal?

Whether to trade per session (Asia, European or US time zone)?
In this EA, there are no specific parameter recommendations, all parameters are left to the user. If you change it, the way you trade will change significantly. It is the use of this EA to determine your own trading rules and customize them to operate according to those rules.